During the 1980's, conservation biologists, state and federal wildlife agencies were assessing the condition of a dwindling population of Florida panthers, approximately 30 at the time. In the mid-1980's, having recently completing panther surveys in south Florida totaling over one-hundred thousand acres, Kevin Erwin entered into discussions with the U.S. Fish and Wildlife Service (USFWS), Florida Game and Freshwater Fish Commission and major land owners in South Florida to determine a course of action.
KECE worked with the landowners to conduct detailed habitat evaluations, panther and prey base studies on private-lands where the highest levels of panther activity was found. These private lands had been well cared for over the years by the Collier, Barfield, and Price families and these land-owner's stewardship, resulting in the maintenance of high quality habitat, managing recreational use and hunting paid "dividends" for the panther and the related biodiversity of this area.
After three years of assessments and negotiations with the wildlife agencies and private land-owners landowners, the Florida Panther National Wildlife Refuge was established in June 1989 under the authority of the Endangered Species Act by the U.S. Fish and Wildlife Service to protect the Florida panther and its habitat. The refuge is part of a network of private land and government owned protected areas including Everglades National Park, Big Cypress National Preserve and Fakahatchee Strand State Preserve. In all, less than 100 panthers now use the larger area, with fewer than a dozen passing through the refuge each month.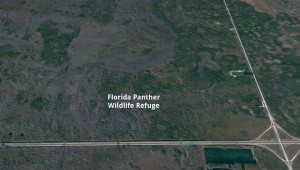 The refuge consists of 26,400 acres and is located in Collier County Florida within the heart of the Big Cypress swamp. The refuge encompasses the headwaters of the Fakahatchee Strand, the largest cypress strand in the Big Cypress swamp. Florida Panther Refuge is located 20 miles east of Naples, Florida at the northwest corner of the intersection of Alligator Alley (I-75) and State Road 29. The refuge is due west of the Big Cypress National Preserve and due north of Fakahatchee Strand State Preserve and Picayune Strand State Forest.
The Florida panther is the only cougar species found east of the Mississippi River. The USFWS currently reports that each month, 5-11 Florida panthers den, hunt, and roam within the refuge. Black bear, bobcat, white-tailed deer, Big Cypress fox squirrels and wood stork utilize the refuge. Large concentrations of wading and water birds feed, nest, and roost on the refuge. The refuge is composed of a variety of wetland and upland habitats including pine flatwoods, cypress strands and domes, wet prairies, tropical hardwood hammocks and hydric pinelands. Rare orchids and bromeliads are found throughout the refuge.